Leaves the properties of titanium intact
■
Common photocatalytic materials are of the coating type, taking the form of a layer on the substrate. Titanystar's photocatalytic layer does not contain any of the binders or dispersants present in the coating type materials and thus exhibits higher activity.
■
Titanystar's film has the same crystal structure as anatase-type titanium oxide, and being molded uniformly on the substrate titanium surface with no definite dividing layer means that it has excellent durability. Furthermore, its original beautiful surface finish and its many color variations can be included in its list of properties.


  1.Comparison between other photocatalytic materials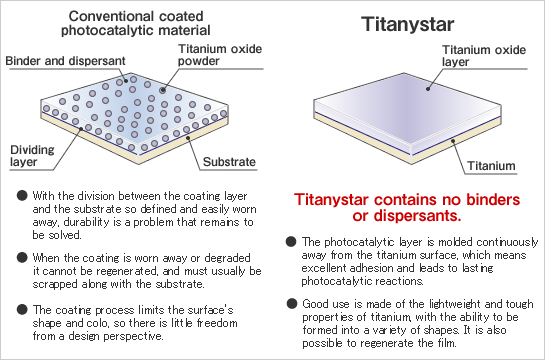 2.Titanystar's surface structure
  Titanystar's surface has inherited much from the structure of the titanium material.
  A photocatalytic layer (of anatase-type crystal structure) is formed in this surface.


  3.Titanystar's physical properties
  ■Highly active due to no impurities

  ■Possesses the optimum anatase-type crystal structure for photocatalysis

Copyright(C) 2007 Yield .INC All Rights Reserved.